A GUMMY A DAY KEEPS THE DOCTOR AWAY
Onze Apple Cider Vinegar Gummies helpen om op een gezonde en aangename manier af te slanken, in combinatie met een evenwichtige voedingsstijl en voldoende beweging.
Appels worden beschouwd als één van de gezondste voedingsmiddelen in een dieet, omdat ze rijk zijn aan antioxidanten, vezels en vitamine C.
Appelciderazijn kent vele voordelen. Niet alleen bevordert het de spijsvertering het stimuleert ook de bloedsomloop. Daarnaast reguleert het maagzuur en het helpt het lichaam eiwitten en vetten af te breken.
Iedere portie gummies bevat een krachtige boost van appelazijn, foliumzuur, bieterood en water. Onze unieke formule bevat ook vitamine B12, wat helpt energie los te maken uit vet, koolhydraten en eiwitten. Start je dag met een gummy en geniet van een heerlijke appelsmaak.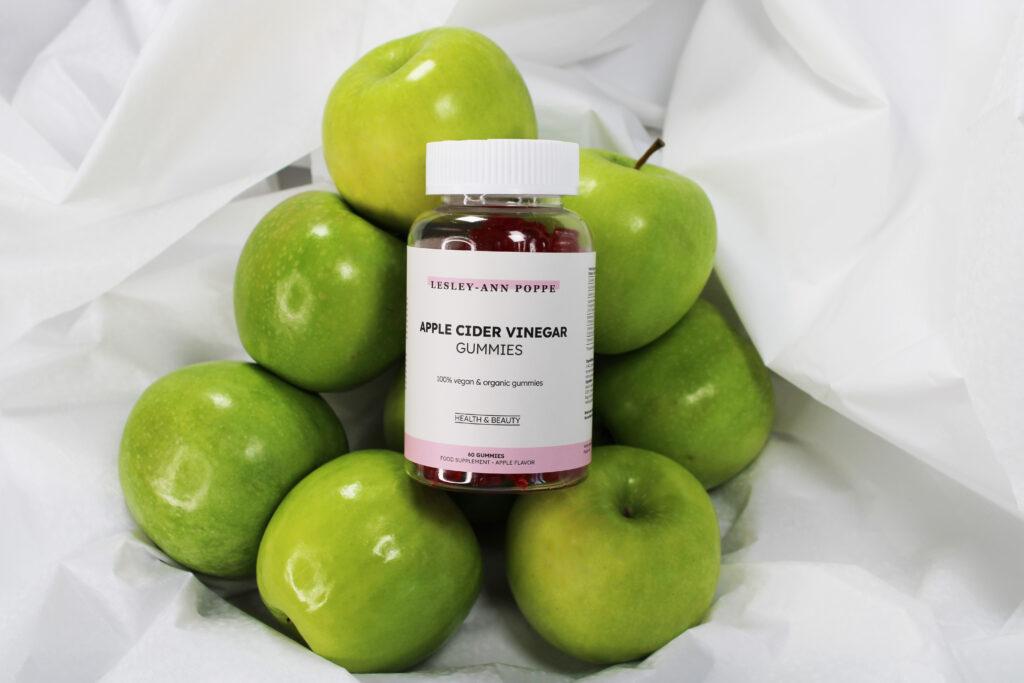 Niets anders dan voordelen:
Gezonde darmflora: Appelciderazijn is goed voor de spijsvertering, maar daarnaast heeft het ook een positief effect op het herstel en behoud van goede bacteriën in je darmen door het gistproces.
Ontgiften: Je lichaam wordt inwendig gereinigd door afvalstoffen in je lever en nieren af te voeren.
Goed voor de huid & acne: Je huid heeft een natuurlijke zuurtegraad en wordt gezuiverd en gebalanceerd door het gebruik van appelciderazijn.
Helpt tijdens het afvallen
Verhogen van energieniveau
REMINDER: TAKE YOUR VITAMINS
Bieterood
Bieten zijn een populair superfood voor alle vezels, vitamines en mineralen die ze bevatten. Bieten staan ​​al eeuwen bekend om hun heilzame eigenschappen, en bovendien geven ze onze Apple Cider Vinegar Gummies een overheerlijke smaak.
Appels
Gemaakt met echte appels, waardoor deze gummies rijk zijn aan prebiotische pectine ter stimulatie van de gezondheid en de darmflora.
Vitamine B9
Vitamine B9, ook wel foliumzuur genoemd, is een van de 8 B-vitamines. Foliumzuur speelt een belangrijke rol bij de groei en ontwikkeling van de mens.
Granaatappels
Granaatappels zijn een heerlijke bron van belangrijke voedingsstoffen.
Vitamine B12
Een tekort aan vitamine B12 veroorzaakt ernstige vermoeidheid en uitputting. Vitamine B12 helpt met energie en dit maakt het op zijn beurt gemakkelijker om vast te houden aan je doelen voor lichaamsbeweging en gewichtsverlies.
Citroenzuur
Citroenzuur heeft vele voordelen, waaronder het produceren van energie om je actief en gezond te houden.
Voedingswaarde per gummie
18kcal, 4g koolhydraten waarvan 2g suiker
Aanbevolen dagelijkse hoeveelheid: 1-2 gummies per keer (en dat maximaal 3 keer per dag). In totaal dus maximaal 6 gummies per dag. Een potje Goli Apple Cider Vinegar Gummies bevat ongeveer 30 dagelijkse dosissen (60 gummies).
How to use?
De dagelijkse dosering bestaat uit 2 kauwbare gummies. Je kan kiezen om ze tegelijk in te nemen of op verschillende tijdstippen in de dag. Als je ze liever verdeeld over de dag, raden wij aan om ze wel iedere dag op hetzelfde tijdstip te nemen. De gummie zorgvuldig kauwen, slik niet in zijn geheel door.

Contoleer voor inname nauwkeurig de volledige lijst van ingrediënten of raadpleeg een arts om persoonlijke allergenen te vermijden. Als je zwanger bent, borstvoeding geeft, medicijnen gebruikt of onder medisch toezicht staat, raadpleeg dan een arts voor gebruik. Dit supplement is niet bedoeld voor gebruik door personen onder de 18 jaar.
Koel en droog bewaren.