Buh-bye, broze nagels.
Misschien is het de verveling (of misschien is het de overvloed aan nail-art trends die we graag willen proberen nu de salons eindelijk open zijn), maar het lijkt erop dat velen van ons op dit moment proberen om onze nagels langer en sterker te laten groeien.
Als je de acryl en de gels achterwege hebt gelaten, maar je nagels zijn nog steeds broos en schilferig, we feel your pain.
Op een missie om de lange, fancy nagels van onze dromen te krijgen, hebben we alle hacks uitgeprobeerd om precies te onthullen hoe we onze nagels langer, sterker en gezonder kunnen laten groeien. Lees verder om al onze tips te weten te komen.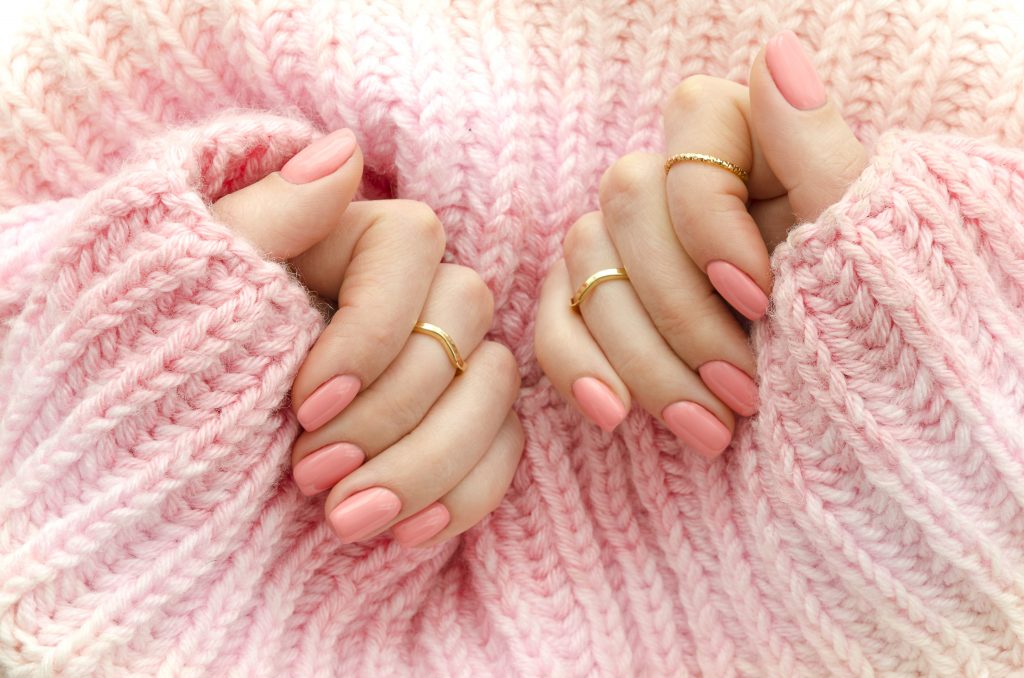 1. Gebruik dagelijks een Cuticle Oil
Het beste geheim om je nagels te laten groeien is: hydratatie, hydratatie, hydratatie. Om sterke nagels te hebben, moeten ze gezond zijn – en om gezond te zijn, moeten ze gehydrateerd zijn. Nagelriemolie werkt door de nagelriem en het nagelbed te hydrateren, en daarom is het zo'n belangrijke stap in nagelverzorging, of je nu je nagels laat groeien of gewoon wilt dat ze er op hun best uitzien.
2. Overweeg biotine
Studies tonen aan dat broze nagels die snel afschilferen en breken een teken kunnen zijn van een biotinetekort, dus het kan een goed idee zijn om je dieet aan te vullen met een extra dosis van deze essentiële B-vitamine.
Biotinerijke voeding kan helpen om broze nagels te versterken. Verschillende studies tonen aan dat er een significante toename is in nageldikte en hardheid bij het dagelijks innemen van 2,5mg biotine supplement.
3. Investeer in een 'zachte' nagelvijl
Je hebt misschien gehoord dat stalen nagelvijlen beter zijn om mee te vijlen, maar hoewel ze mooi zijn, langer meegaan en gemakkelijk schoon te maken zijn, loont het de moeite om te investeren in een 'zachte' vijl.
Om het beste resultaat te krijgen bij het vijlen, moet je altijd kiezen voor een zachte vijl om te voorkomen dat je nagels scheuren of splijten.
4. Voed je nagelbedden
Als een hobbelig, geribbeld nagelbed je mani volledig verpest, moet je misschien je vitamine B9-inname verhogen.
Deze vitamine, ook bekend als foliumzuur, herstelt en vermenigvuldigt de cellen waaruit de nagels zijn opgebouwd, wat de groei versnelt en de algehele nagelgezondheid bevordert. Het is ook bewezen dat het de sterkte van de nagel verhoogt en pellen voorkomt.
Foliumzuur is verantwoordelijk voor een gezonde celgroei in huidweefsel, maar ook in haar en nagels. Een echt tekort aan foliumzuur kan verkleuring veroorzaken en bijdragen aan broze en zwakke nagels.
Als je denkt dat je een tekort hebt, zijn voedingsmiddelen zoals bonen en volle granen rijk aan foliumzuur – maar je kunt ook foliumzuursupplementen over de toonbank kopen.
5. Volg een nail-friendly dieet
Vergeet al die propaganda over crash-diëten die je al tientallen jaren wordt voorgeschoteld, want het beste dieet voor je gezondheid – ook voor je nagels – is rijk aan variatie.
Om je nagels langer en sterker te laten groeien, is een voedzaam regenboogdieet met kleurrijke groenten en fruit, bladgroenten, vette vis, noten, zaden, avocado, eieren, mager vlees, een beetje volle granen en zoete aardappelen".
Om het naar een hoger niveau te tillen, voeg je voedingsmiddelen toe die de groei van gunstige bacteriën stimuleren, zoals kefir, miso en yoghurt. Vergeet ten slotte niet te blijven hydrateren en alcoholconsumptie en geraffineerde suikers tot een minimum te beperken.
6. Gebruik een keratine-behandeling
Keratine komt van nature voor in nagels en maakt ze flexibel – maar laat dat woord je niet afschrikken. Het betekent niet dat ze dun, breekbaar of buigzaam worden, maar doordat ze flexibel zijn zullen ze niet makkelijk afbreken.
Pro Tip: Het klinkt misschien voor de hand liggend, maar het beste advies is eigenlijk de makkelijkste manier: Gebruik je nagels niet als gereedschap – denk eraan: wees zacht!